This salad is quick to prepare, full of flavour and packed with nutritious veggies that will leave you feeling fuller for longer. It's the perfect meal to prepare in advance and take along to work, as we talked about in our blog post all about eating healthily whilst working shifts. You can use whatever noodles you have lying around at home, but if you want to up the nutrient levels of this meal even further then choose whole grain noodles where possible. It is worth investing in a small leak proof container to hold your sauce, so you can add it as soon as you're ready to eat and that way your veggies won't go soggy. The extra small honey jars with screw top lids that you sometimes get alongside a hotel breakfast are perfect for this, but any leak-proof container that fits in your pack-up will do.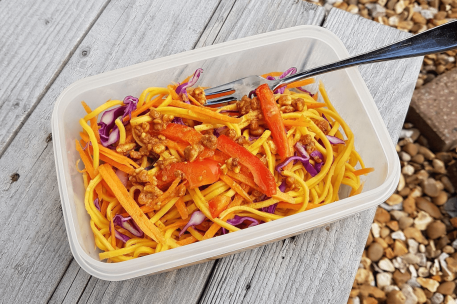 Serves 2
Ingredients:
2 nests of dried noodles (approximately 100g)
70g red cabbage
160g carrots
100g red or green pepper
For the peanut sauce:
1 clove of garlic, minced
¼ thumb piece of ginger, minced
50g peanut butter
60ml orange juice
2 tsp lime juice
3 tsp honey (or maple syrup)
3 tbsp soy sauce
Method:
Place the noodle nests in boiling water, cook according to the packet instructions, and then place into ice cold water to prevent them from cooking any further.
Using a sharp knife, shred the red cabbage finely and then chop the carrots and peppers into fine batons. You may use a mandoline slicer or a julienne peeler to save time here.
Drain the noodles, shaking off any excess water, and toss together with the chopped vegetables. Divide into two portions.
Place all of the peanut dressing ingredients into a clean, empty jam jar or other leak-proof container. Shake the jar until all ingredients are thoroughly combined. 
Pour the dressing straight onto the noodles when the meal is ready to be consumed. 
Note: The salad will keep in the fridge for four days. Depending on what brand of peanut butter you use, the dressing may separate if left to stand. Shake it to re-emulsify.