This recipe is phenomenally easy, as the pan does all the work for you. It's also a wonderful way to use up leftover tomatoes. To make this recipe even healthier, use a wholewheat pasta. Wholewheat pasta has a higher fibre content than its regular counterpart and fibre is a key to keeping our digestive systems happy and healthy.
Serves 4
Ingredients:
400g spaghetti or linguine
1L boiling water
300g tomatoes, halved (ideally cherry tomatoes, but any will work well)
Zest of two unwaxed lemons
100ml olive oil
1tsp salt
200g spinach
To finish:
Parmesan cheese
Pine nuts
Method:
Put the pasta, tomatoes, lemon zest, oil and salt into a large wide-rimmed pan (a casserole dish, deep frying pan or wok will work too).
Pour over 1L of boiling water, turn on the heat and bring the pan back up to boiling. Reduce to simmer for approximately 6 minutes, and use a pair of tongs to turn the pasta every 30 seconds or so, crushing the tomatoes in the process.
Add the spinach and continue to cook until almost all the water has evaporated.
Serve immediately with a scattering of parmesan cheese and pine nuts on top.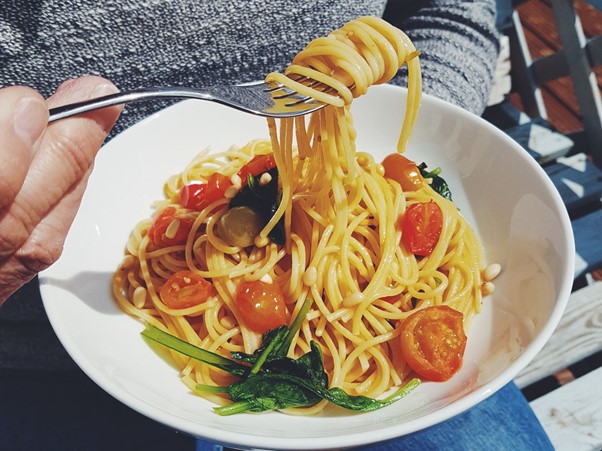 Recipe adapted from Anna Jones – A Modern Way To Cook