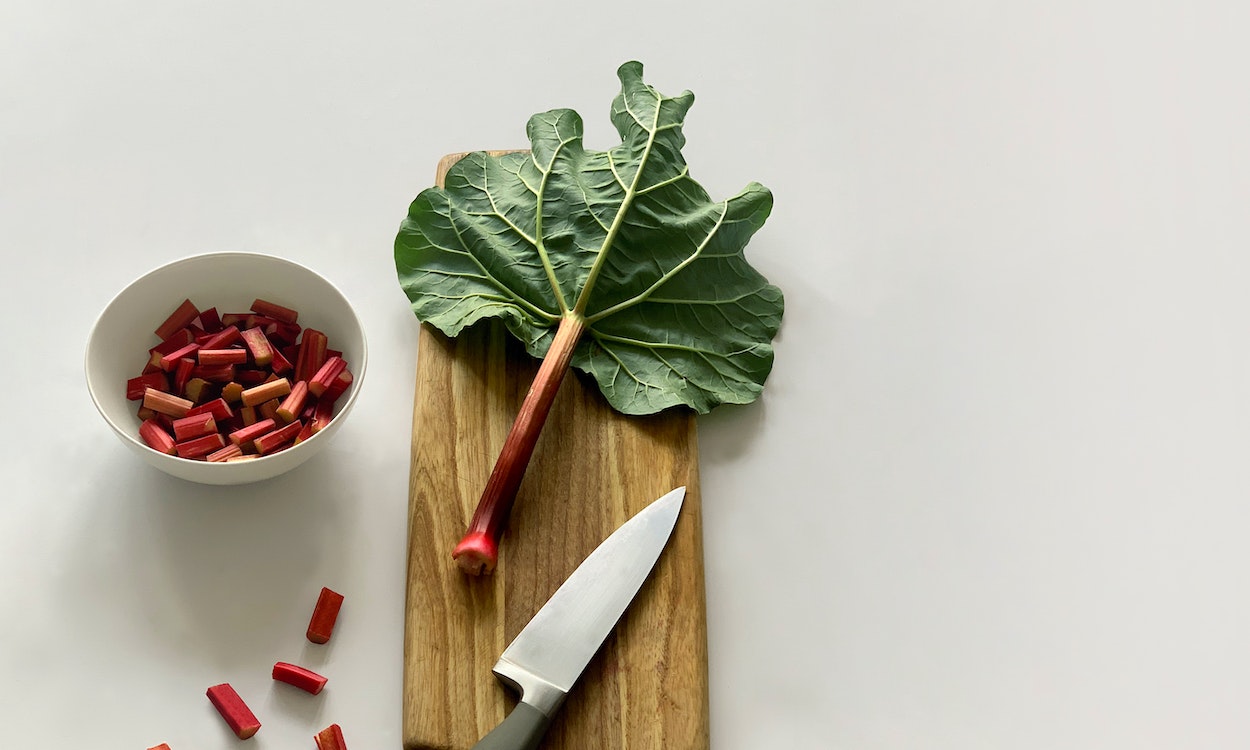 Rhubarb crumble
Each month we highlight the best of British seasonal produce in a delicious recipe for you to make at home, with this month's star being rhubarb.
The pink stems of rhubarb are unmistakable in both the supermarket and the garden. It is one of the easier plants to grow at home – just one crown planted in your garden will keep you stocked with rhubarb for months. As well as working well in a crumble, rhubarb makes a fantastic tangy jam which works well as both a sweet and savoury side condiment.
Rhubarb is packed full of fibre, protein, vitamin C, vitamin K, B complex vitamins, calcium, potassium, and magnesium. The high amount of fibre found in rhubarb helps keep your digestive system healthy. Rhubarb has traditionally been used as a cure for constipation and may help prevent a wide range of more serious gastrointestinal disorders, including bloating and cramping.
Rhubarb is in season in the UK right now and it is at its best between April and mid-summer.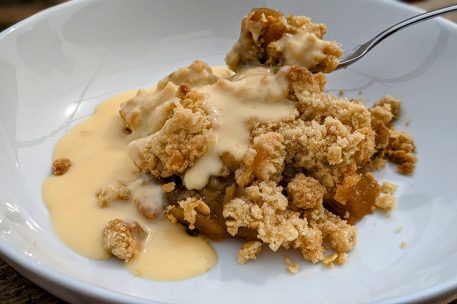 Rhubarb crumble
Equipment you will need for this recipe:
Knife and chopping board
Saucepan
Baking dish
Oven
Ingredients:
400g rhubarb
5 balls of stem ginger plus a little syrup
100g cold cubed butter
150g self-raising flour
100g caster sugar
50g porridge oats
Method:
Begin by preheating the oven to 180 degrees C.
Wash and trim the ends from the rhubarb. Cut into 2cm lengths.
Finely chop the stem ginger balls and mix this with the rhubarb and half of the caster sugar in a saucepan.
Add a small splash of cold water and heat the rhubarb ginger mixture until the rhubarb has begun to break down. Stir when necessary.
Whilst the rhubarb is cooking on the hob, rub the butter, flour, oats and remaining sugar together with your hands until the mixture resembles breadcrumbs.
Transfer the ginger rhubarb mixture into the baking dish and top this with the crumble mixture.
Place the baking dish into the oven and bake for 20 minutes.
Serve hot with custard, cream or ice cream.