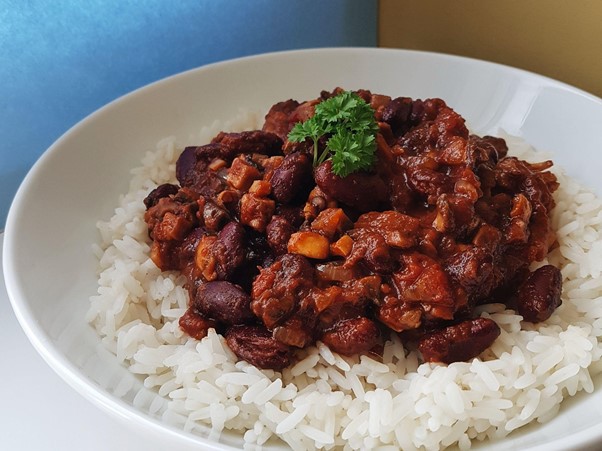 This meat-free version of chilli con carne is the perfect low-fat dish for those cold winter nights. Mushrooms are at their peak at this time of the year and this recipe uses a lot of them, but if meat is more your thing then you can replace half of the mushrooms in this recipe with lean mince. If you can handle the heat then feel free to increase the amount of chilli powder used in this recipe, and try to seek out smoked ancho chilli powder if you want to pack in some extra smokiness. Regular chilli powder will work perfectly well in this recipe too.
Serves 2-3
Ingredients
2 tablespoons of your usual cooking oil
1 medium onion, diced
1 clove garlic, chopped
1 teaspoon chilli powder
2 teaspoon paprika
½ teaspoon chilli flakes
200g mushrooms, diced into small chunks
1 400g tin chopped tomatoes
1 400g tin red kidney beans, drained
Method 
In a large pan and using a low to medium heat, gently fry the onions and garlic in the oil for 5-10 mins until translucent and soft.
Add the mushrooms, paprika, chilli powder and flakes to the onions and garlic. Mix well and cook for a further five minutes. If the mushrooms begin sticking to the bottom of the pan feel free to add a little more oil to loosen everything up.
Once the mushrooms have browned and are fully coated in the spices, add in the kidney beans and tinned tomatoes. Mix everything together well and bring to a boil.
Once boiling, drop the heat down to simmer for 20 mins until the kidney beans are soft.
Serve immediately with rice or on top of a jacket potato.