High in both fibre and protein, this is an easy summer recipe which tastes great on its own or served as an accompaniment alongside barbequed meat. To allow the zingy lemon and mint flavours to cut through the creaminess of the lentils and beans we found that this dish was best when served after cooling slightly, but it can be served hot or cold to your preference.
If you don't have any cannellini beans then butter beans make a fine replacement. Similarly, juice from a freshly squeezed lemon can be substituted with bottled lemon juice if that is all you have in.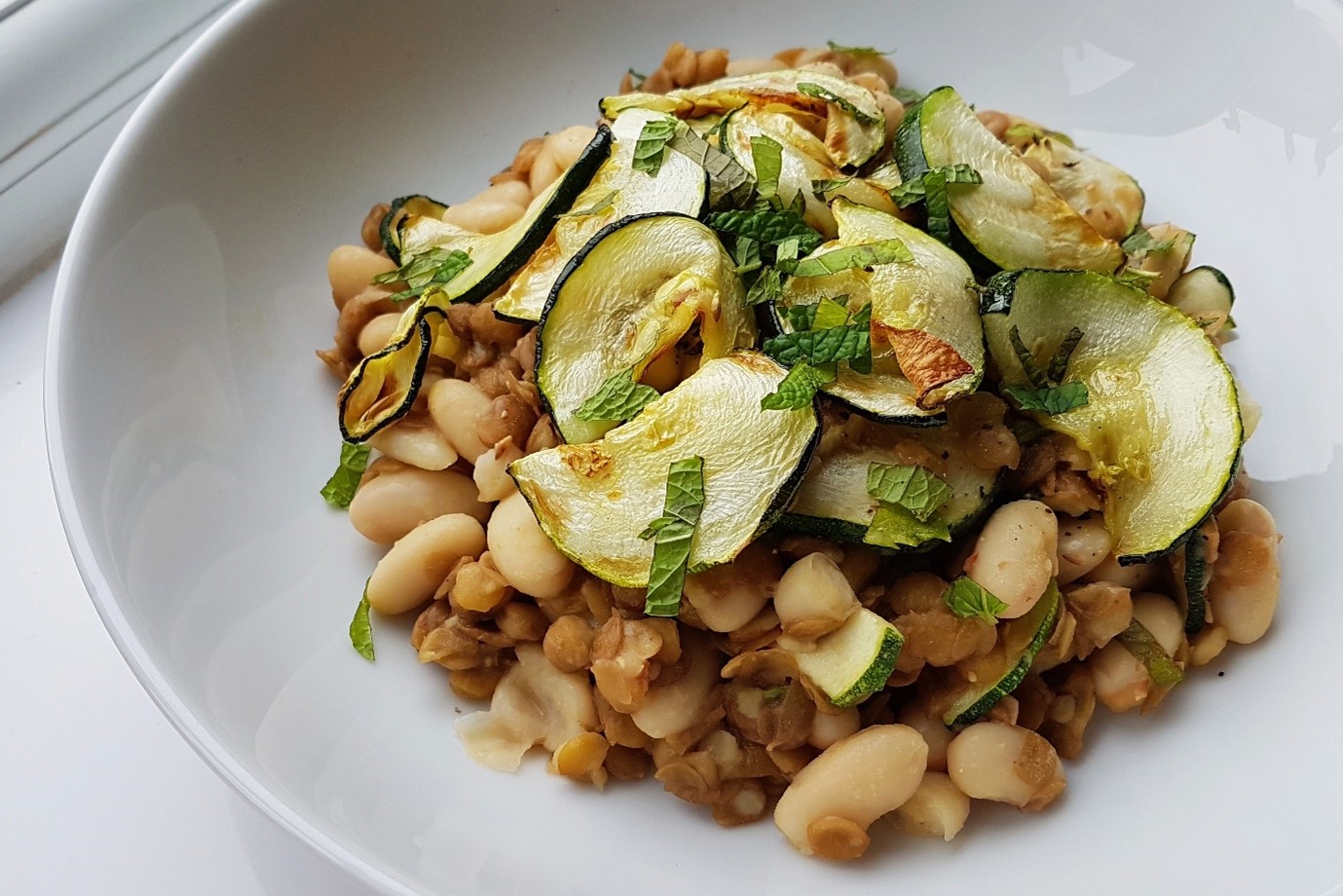 Serves 2 as a main
Ingredients:
1 x 400g tin of green lentils
1 x 400g tin of cannellini beans
1 x courgette
1 x lemon (or equivalent bottled lemon juice)
½ a vegetable stock cube
A large handful of mint sprigs
Pre-heat your oven to 180 degrees (gas mark 4). Chop your courgette into rounds approximately 2-3mm thick and slice the rounds in half.
Lightly coat the chopped courgettes with oil and place on a lined baking tray in the oven for 10-15 minutes. Alternatively, you can airfry your courgettes if you don't want to use the oven.
Whilst the courgette are browning, drain your tinned lentils and cannellini beans and place these in a pan with your crumbled vegetable stock cube and juice from one lemon. Mix well and warm over a low heat.
Once on the heat, do not repeatedly stir the contents of the pan, as you want the lentils to retain their shape and not go mushy.
Chop the mint into small slivers. When the courgettes are cooked, add them and the chopped mint into the pan.
Stir everything together and serve!