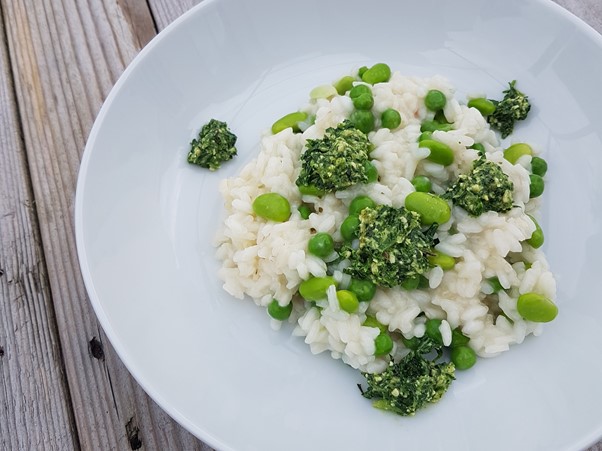 We are in the time of year known as the hungry gap – where last year's produce has run out and this year's food is just beginning to grow. But spring is in full flow, signs of life are returning, and this recipe combines two of the first edible ingredients to appear in the annual growing calendar – broad beans and wild garlic.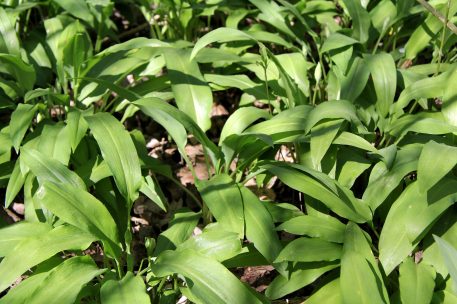 Wild garlic is known for its antibacterial properties, but it also contains vitamins A and C, calcium and iron, and studies have shown that it may help to reduce blood pressure too. As well as all these great health benefits, picking wild garlic gives you a great excuse to get outside for a walk in the spring air. Wild garlic can be foraged from wooded areas that are close to water – Linacre Woods in Chesterfield and along the Cromford Canal Walk are great spots to find some. Just make sure that you forage responsibly by only taking the leaves and giving them a good wash before consuming them.
Ingredients
For the risotto, makes four portions
300g arborio rice
700ml vegetable stock
2 tbsp olive oil
150g broad beans, with white shells removed
150g frozen peas
For the wild garlic pesto
75g wild garlic leaves, well washed
15g basil leaves, well washed
30g finely grated parmesan cheese
30g pine nuts
3 tbsp olive oil
A washed and sterilised empty jar
Method
First, make the wild garlic pesto by gently cooking the wild garlic in a frying pan with 1 tbsp of oil so that it has softened and started to blister slightly. Remove from the heat immediately and leave to cool.
After it has cooled, add the wild garlic, basil, parmesan, pine nuts and remaining oil into a high powered blender and blitz until it becomes a runny paste. Pour into your sterilised jar, keep refrigerated and use up as soon as possible.
Next, begin making your risotto by heating the olive oil in a wide high sided pan. Pour in the arborio rice and mix until the oil coats the rice.
With the pan on a medium heat, begin pouring in the vegetable stock, little by little, until all the stock is absorbed and the risotto is bubbling gently. Reduce the heat to very low if the risotto is catching on the pan and starting to splatter. This process should take around 30-40 minutes.
Then add the shelled broad beans and frozen peas to the risotto. Mix in and leave to warm through for an additional 5-7 minutes.
Serve the risotto in a bowl with a drizzle of wild garlic pesto on top and enjoy!