Crushed broad beans and peas on toast
Each month we highlight the best of British seasonal produce in a delicious recipe for you to make at home, with this month's star being broad beans.
Broad beans have a love 'em or hate 'em reputation but over here at the DBT, we love them. The key to getting rid of their bitter taste is to double pod the beans by removing both the tough pod and the white or light green shell so you are left with a skinless bright green bean. In this recipe, along with peas, they make a great healthy alternative to avocado on toast.
Broad beans are full of vitamins and minerals including iron, magnesium, folate, copper, zinc, and vitamins B and C which are all beneficial to your bone development, brain function, and your immune system.
Broad beans are in season in the UK right now and at their peak from the end of June to mid-September.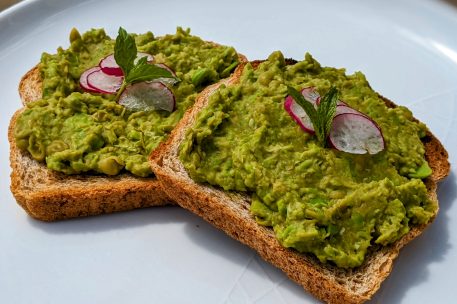 Crushed broad beans and peas on toast
Equipment you will need for this recipe:
Microwave
Hand blender or large fork
Toaster
Ingredients:
100g podded and peeled broad beans
60g of tinned peas (you can use frozen)
Large pinch of salt
1 tbsp lemon juice
Your choice of bread for toasting
Method:
Place your bread in the toaster.
When the bread is toasting, place the tinned peas and broad beans in a microwavable jug or bowl with a small pinch of salt. Cover with enough water so that they are just submerged.
Microwave on full power for 1 minute and then stir. Repeat this process twice more. If you have a high powered microwave you may find that you only need to cook for 30 seconds on the final heat.
Drain the peas and beans and place them back into the jug along with the lemon juice and remaining salt. Use a hand blender or fork to lightly blend the peas and beans together. You still want some chunky parts to remain so do not blitz into a puree.
Check the pea bean crush for taste, add more salt or lemon juice to taste, and spread onto your toast. Eat immediately!