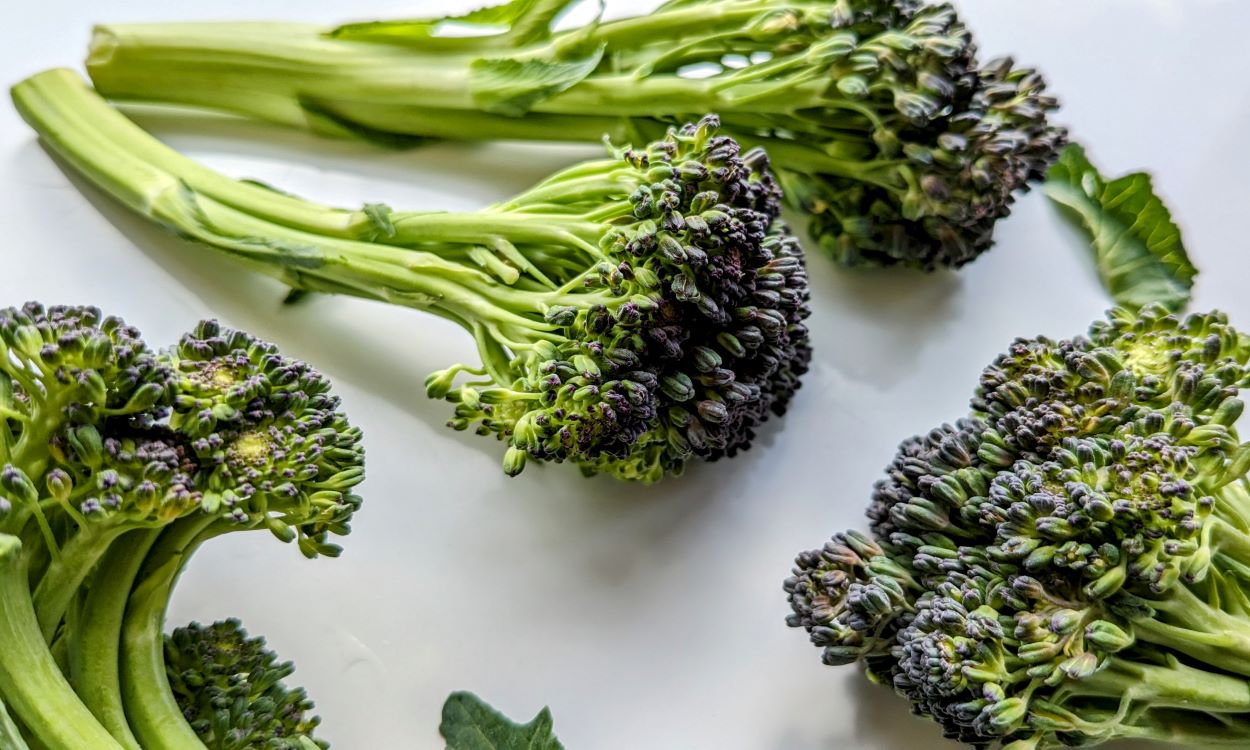 Purple sprouting broccoli bake
Each month we highlight the best of British seasonal produce in a delicious recipe for you to make at home, with this month's star being purple sprouting broccoli… or PSB for short.
Purple sprouting broccoli is not unlike its close relative tenderstem broccoli, except it has thicker stems and a distinctly purple head. If grown at home, it is a perennial plant which comes back year on year unless it goes to flower.
PSB is another cruciferous veg which is rich in vitamin C, vitamin A, folate, calcium and iron. It is low in calories and carbohydrates and high in fibre, therefore a great addition to your plate. Purple sprouting broccoli also contains the phytochemical sulforaphane, which is thought to provide resistance against heart disease, osteoporosis and diabetes.
PSB is in season in the UK right now and is at its best between February and April.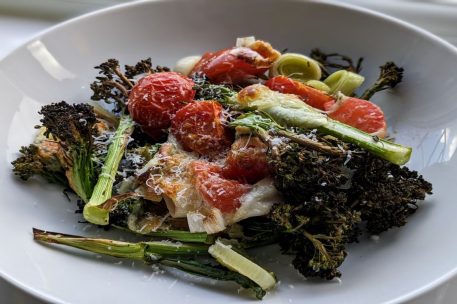 Purple sprouting broccoli bake
Serves 2
Equipment you will need for this recipe:
Knife and chopping board
Baking tray
Oven
Ingredients:
200g purple sprouting broccoli
200g cherry tomatoes
1 leek
1 ball of mozzarella
1-2 cloves of garlic
1tbsp dried oregano
Method:
Begin by preheating the oven to 160 degrees C.
Prepare the vegetables: Mince or chop the garlic into fine pieces. Chop the leek into rounds approximately 5mm thick. Cut the cherry tomatoes into halves. If the stems of the broccoli are thicker than a fingers width, then slice them lengthways.
Toss the vegetables on the baking tray with oil and oregano.
Cut the mozzarella ball into slices and place over the vegetables on the tray.
Bake in the oven for approximately 20 minutes or until the mozzarella is browning and the stems of the broccoli have gone bright green.
When plating the broccoli bake up, finish with a dusting of parmesan cheese if desired. Serve immediately and enjoy!
Note: the above has been adapted from a recipe created by Riverford Kitchen.