Having worked as a mechanic in the coal mines prior to joining the police, John Whitworth witnessed many old miners, broken by their hard-working lives, dying several months after retirement. So he vowed to live life to the max when he retired and to keep himself mentally and physically fit to ensure he could.
John, a former Derbyshire Police Federation workplace representative and conduct lead, retired from the Force a year ago having completed almost 25 years as a police officer. And, so far, he has managed to fulfil his pledge to remain fit and active, partly by following his passion for walking.
Here he details his latest walking feats and explains what inspired him to start walking for pleasure in the first place.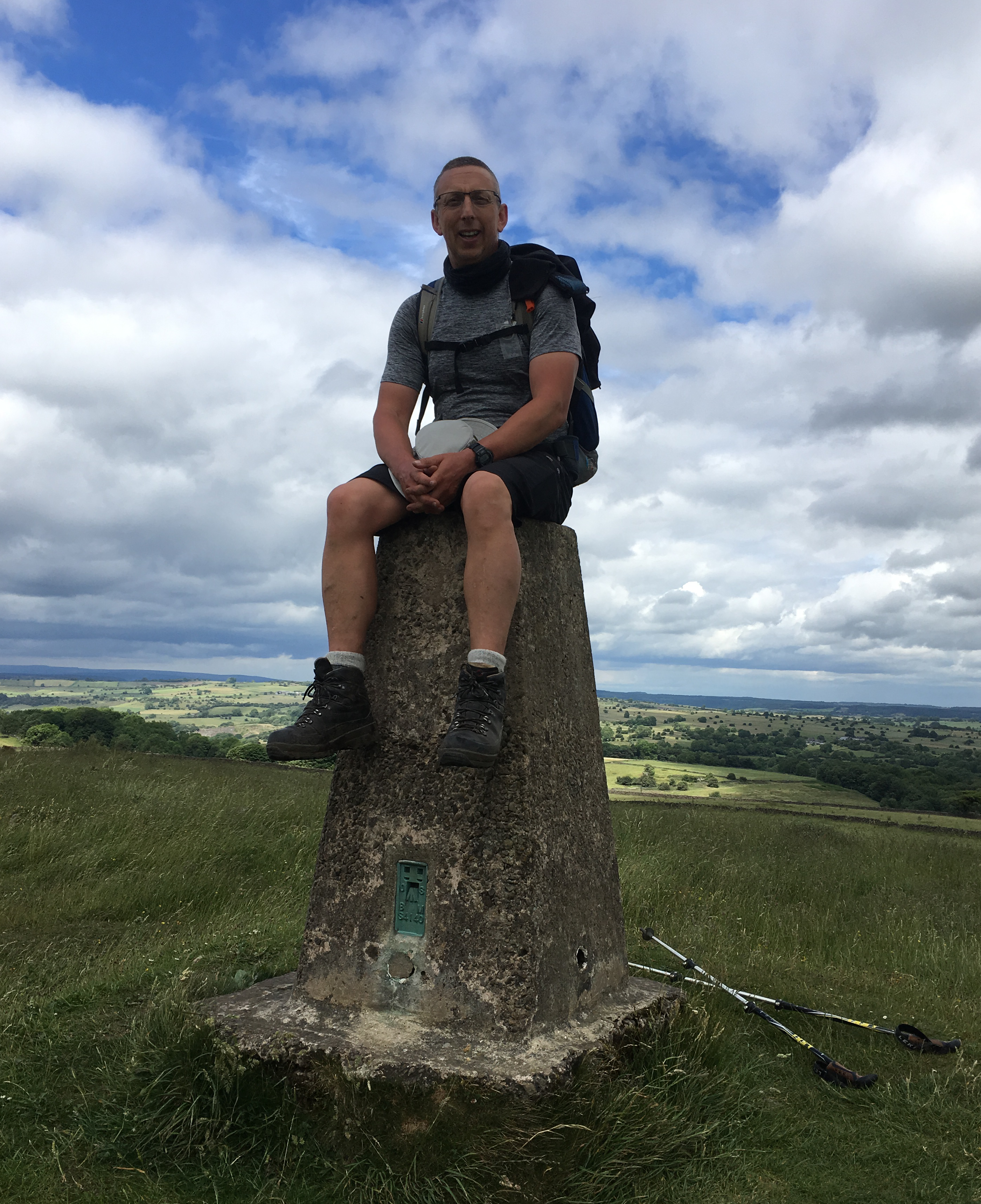 John writes: At this time I am just resting after completing the Hadrian Hundred, the flag piece event of the Long Distance Walking Association (LDWA) that takes place each year. This year was my third Hundred and, despite the horrendous weather conditions we experienced over Cross Fell and going up High Cup Nick in the North Pennines, I managed to complete 101.5 miles in 38 hours and 25 minutes.
My love of walking began with a jaunt out to the Longshaw Estate as a youngster where, in my eyes, I could see mountains as I gazed around the estate. It was walking down Padley Gorge and the slog back up on the opposite side to the ice cream van that ignited what has become a passion for me; a passion stoked by monthly trips out to Kinder Scout during my mechanical apprenticeship and a couple of outward bound courses to the Lakes.
There were a few fallow years in my walking career mainly due to work commitments but as my wife, Sharon, had got the kids out walking I joined them and, over the next year, we completed many short walks in the Peak District. This led to the walks getting longer and us venturing out to the Lakes which to this day is still my favourite place to hike.
I then started going out hiking with colleagues from work, normally around 10 miles with a pub stop for lunch. We would gently increase the distances but at around 12 – 14 miles they had found their limit. However, I wanted to go further and this is how I found the LDWA.
But you don't have to walk a 100 miles in 48 hours to enjoy walking. It's the cheapest form of exercise and most people can do it, be it taking your dog for a half-mile spin around the block to walking up onto Stanage Edge. You do what you are comfortable with but you are getting out into the fresh air.
There are many walking groups in the area and you can join the Ramblers who are perfect as a start-up group if you want to try hiking. Once you get established as a rambler then longer distances may be what you want to do and the LDWA will welcome you with open arms.
Retirement has opened up so many opportunities for me to hike with Sharon. We are out with our LDWA group, The Irregulars, at least twice a week walking between 17 and 22 miles a hike. We are among the youngest members with the age group tending to be late 50s to some in their 80s.
However, one thing I have discovered is that those at the high age demographic can actually leave us 'young uns' in their wake when it comes to hiking. Mentally they are all still as sharp as a knife with some wicked and dry senses of humour along with a world of life experiences.
This is the thing about walking, you can do it on your own, you can do it in couples or groups and you can do it as a challenge.
It makes you feel alive and is great for your mental health. It gets you out socialising whether that being a short perambulation to a pub or cafe and a return journey or a challenge like Compo's Way from Hunters Bar at Sheffield to Sid's Cafe at Holmfirth.
We used to say at work that while you were marching you weren't fighting but I would say that in retirement while you're marching, you're learning. This could be from seeing a flower or tree you've never seen before to a rocky outcrop or an industry of old. It ignites your thirst for knowledge and keeps those little grey cells active.
You can also, as some of my walking colleagues do, keep a walking diary, log your mileage, height climbed and descended. I have climbed the equivalent of three times Mount Everest over the last year and since 1 January 2019, I have walked more than 1,100 miles.
The beauty of walking in groups is the socialising. You find you become part of a community that leads to other social events and, whether you like it or not, all bobbies are social animals so it's great to find others who thrive on the craic.
If you fancy starting to get out and walk in the hills, moors and dales then ensure you have the right equipment. A decent pair of boots or walking shoes are a must, basically to give you support and protection while walking. You do not have to go for the most expensive but a little research helps and always try them on before you buy them. A decent waterproof jacket and trousers and a small rucksack for food and fluid are all you need for a short hike.
Another aid to walking in the hills and items that are beneficial both for stability and toning of your upper body are walking poles. They are invaluable when walking down steep inclines giving you control over your descent. Again, you don't have to spend excessively on getting a pair but they reduce pressure on your knees and give assistance also when going uphill.
So, there you are, if you want to keep fit and you don't want to spend money on gyms or health clubs then get yourself out into the countryside but as A. W. Wainwright, the British fellwalker, guidebook author and illustrator, would advise when people perambulated out onto the fells: "Watch where you're putting your feet!"
Footnote – the Welsh mountains are very wet!!! But definitely worth the visit.